58in Mid-Size Arcade Style Air Hockey Table for Game Room, Home, Office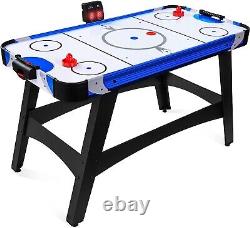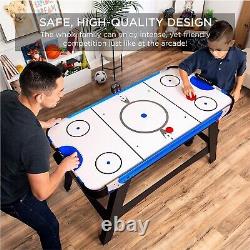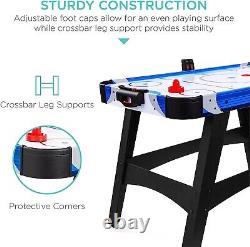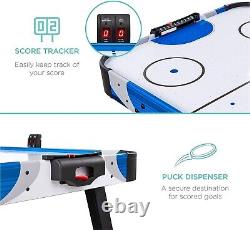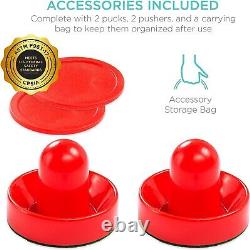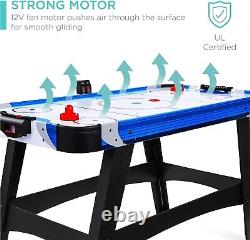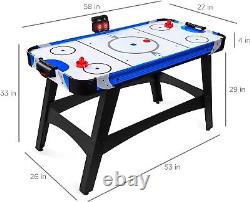 STRONG MOTOR: Air is evenly spread with the 12V DC motor and adapter, allowing the puck to glide smoothly across the 54-inch table for a fun game reminiscent of the arcade. STURDY CONSTRUCTION: Made of high-quality composite wood and PVC, this table is equipped with adjustable levelers and crossbar leg support for stability, as well as 4 reinforced corners for durability. DIGITAL SCOREBOARD: Game set is designed with manual and LED electronic scorekeeping, plus a secure puck dispenser on each side that catches the puck when you score. ACCESSORIES INCLUDED: Complete with 2 red pucks & pushers plus a carrying bag, this set has everything needed to enjoy friendly competition and keep things organized afterward. SAFE, HIGH-QUALITY DESIGN: ASTM and CPSIA certification means this air hockey table set is a safe yet exciting game for both kids and adults to join in on the action; OVERALL DIMENSIONS: 58"(L) x 27"(W) x 33(H); Recommended for ages: 8+ years.
We work hard to build innovative, popular, and timeless items that will thrive in your home. Behind your favorite Best Choice Product is a team developing the next best thing! Before an item makes it to your home, it must first pass quality standards and our final stamp of approval. Every step of a product counts, and we never compromise high-quality.
We keep family shopping fun, and what's more fun than a diverse selection of toys? Fully equipped educational toys for building minds, play-pretend sets for imaginations, and our ever-popular ride-ons are just a few of what's in store!

---