Air Hockey Table, Complete Accessories LED Scoreboard, Built in Score Tracker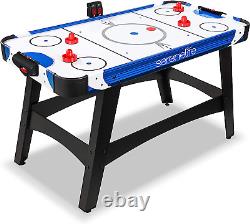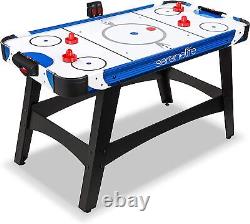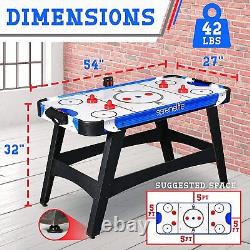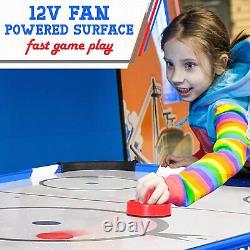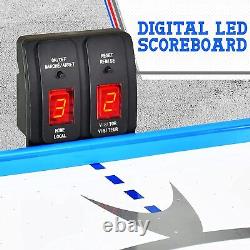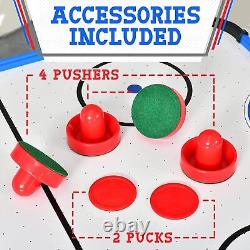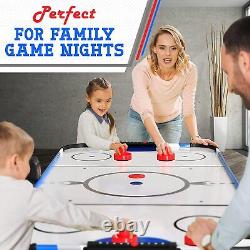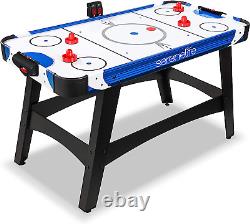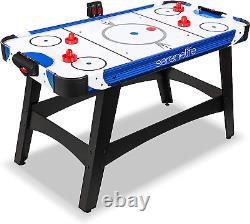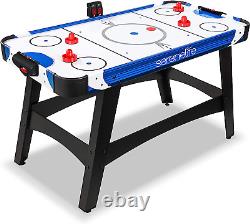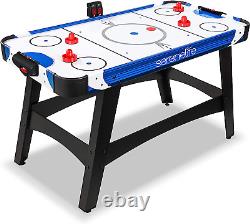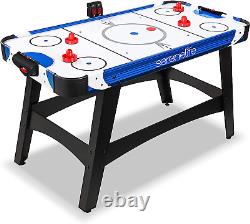 A 12V FAN POWERED SURFACE: With the 12V fan motor that pushes air on the surface, game nights with our hockey table will have a smoother gliding effect during the game. The surface is also durable and scratch resistant, ready for a longer gameplay. DIGITAL LED SCOREBOARD: Featuring a digital and electronic led scoreboard with a built in score tracker and puck dispenser, game nights with the air hockey table will be fun. It also comes with adjustable foot caps, leverers and crossbar leg support. PERFECT FOR FAMILY GAME NIGHTS: Game nights will be more enjoyable with our 54 Air Hockey Table, ideal for any game room, indoor or outdoor.
Play and enjoy with our hockey table, and it will undoubtedly become a favorite during game nights. MID-SIZE ARCADE TABLE: With the 54 inch and 4.5 ft game table with stylish design and fun colors, game nights will be much more enjoyable. Assuring a compact, high quality and a sturdy construction, game nights with the family can last longer. ACCESSORIES INCLUDED: A complete package that comes with 4 pushers and 2 pucks, the game table are all set up and ready to play. Our air hockey board game table is perfect for a friendly and enjoyable 2v2 gameplay, suitable for both kids and adults. Features: - Compact Design - Perfect for any Gameroom or Apartment - Space Saving - Stylish Design - Scratch Resistant and Durable Surface - Heavy Duty Plastic Corners - Digital LED Score Board - Safe and High-Quality Design - Sturdy Construction - Adjustable Foot Caps - Crossbar Leg Supports with Protective Corners - Built-in Score Tracker and Puck Dispenser - 12V Fan Motor Pushes Air through the Surface for Smooth Gliding - Adjustable Levelers and Crossbar Leg Support for Stability What's in the Box: - 54'' Air Hockey Table - (4) 29.53'' -inches Pusher - (2) 21.65'' -inches Puck Technical Specs: - Construction Material: MDF with PVC and Graphic - Hockey Table Thickness: 0.47'' -inch MDF - Hockey Table Dimensions (L x W x H): 54'' x 27'' x 32'' -inches.

---