ESPN Air Powered Hockey Tables with Arcade Score Keeping, Pusher, and Puck Sets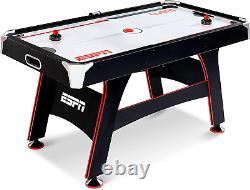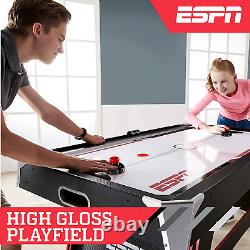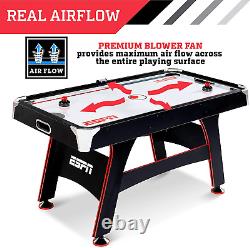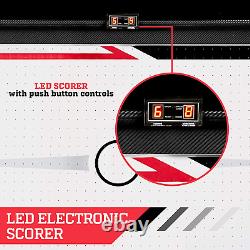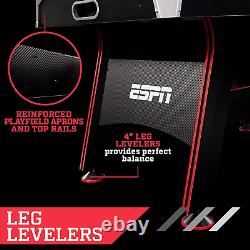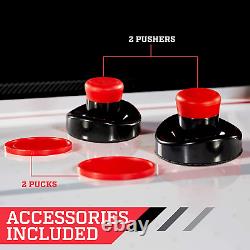 FAST-PACED GAMEPLAY: This game table has a 12V UL Certified blower motor with a plug-in power adaptor cable to produce 80 CFM of airflow volume across the entire table launching game pucks into the PVC side rails to create fast gameplay. CRAFTMANSHIP: The apron of this hockey table is made of MDF and PVC laminated with a graphite pattern finish.
The corners are molded plastic, and the playing surface is made of MDF with a laminate and a 12mm air channel for smooth puck movement. ARCADE-STYLE GAME: The LED electronic scorer is battery-powered (2 AAA not included) and keeps track of your game score with the included puck catcher sensor.
The scorer can be turned on/off or reset with push button controls. STABLE LEG DESIGN & ROOM SIZE: The legs are made of MDF with a graphite PVC laminated finish in an ESPN Arcade design and 4 leg levelers to even the playfield, the recommended room size for this table is 11' x 7' to allow for movement around the table. ACCESSORIES INCLUDED: The electric air-powered hockey table comes with a complete set of table hockey accessories to start playing right away and includes 2 pucks and 2 pushers. High Gloss Playfield and Oversized Leg Levelers. No matter how intense your air hockey game may get, you can trust that this ESPN 5ft. Air Powered Hockey Table can endure it. With a high gloss playfield and oversized 4 leg levelers, the table provides a smooth puck glide and a level playing surface throughout the entire game playfield. What makes this air hockey game stand out from the rest in the market is its built-in premium blower fan that provides maximum air flow across the entire playing surface. This makes every game feel like you are in an actual arcade or game center! State-of-the-art but functional upgrades are added into this ESPN Air Powered Hockey Table - a LED electronic scorer and push button controls.
It's like taking the arcade to your own home or office game room. Also, its leg panel support and reinforced playfield aprons and top rails adds to the stability and longevity of this hockey table.
To enjoy this Air Powered Hockey Table, all you really need to do is put it together and play away! Already included are 2 essential hockey accessories: 2 pushers and 2 pucks. Now call up the gang and set a game night! MD sports proudly supports local business. This ESPN Air Powered Hockey Table with LED electronic scorer is designed in the United States, so you can feel good knowing you are contributing directly to the economy.
If you have any questions or concerns regarding this product, call the toll free number on manual directly and we'll do our best to make sure your playing experience with MD Sports is top-notch.

---